Attending the MoU Signing Ceremony, on Vietnamese side, there were Mr. Vu Duc Loi – Vice President of VKIST, and other VKIST members. On Korean side, there were Mr. Kim Yeongsu Kim - Director of GGHDA and representatives of ALUKO Group.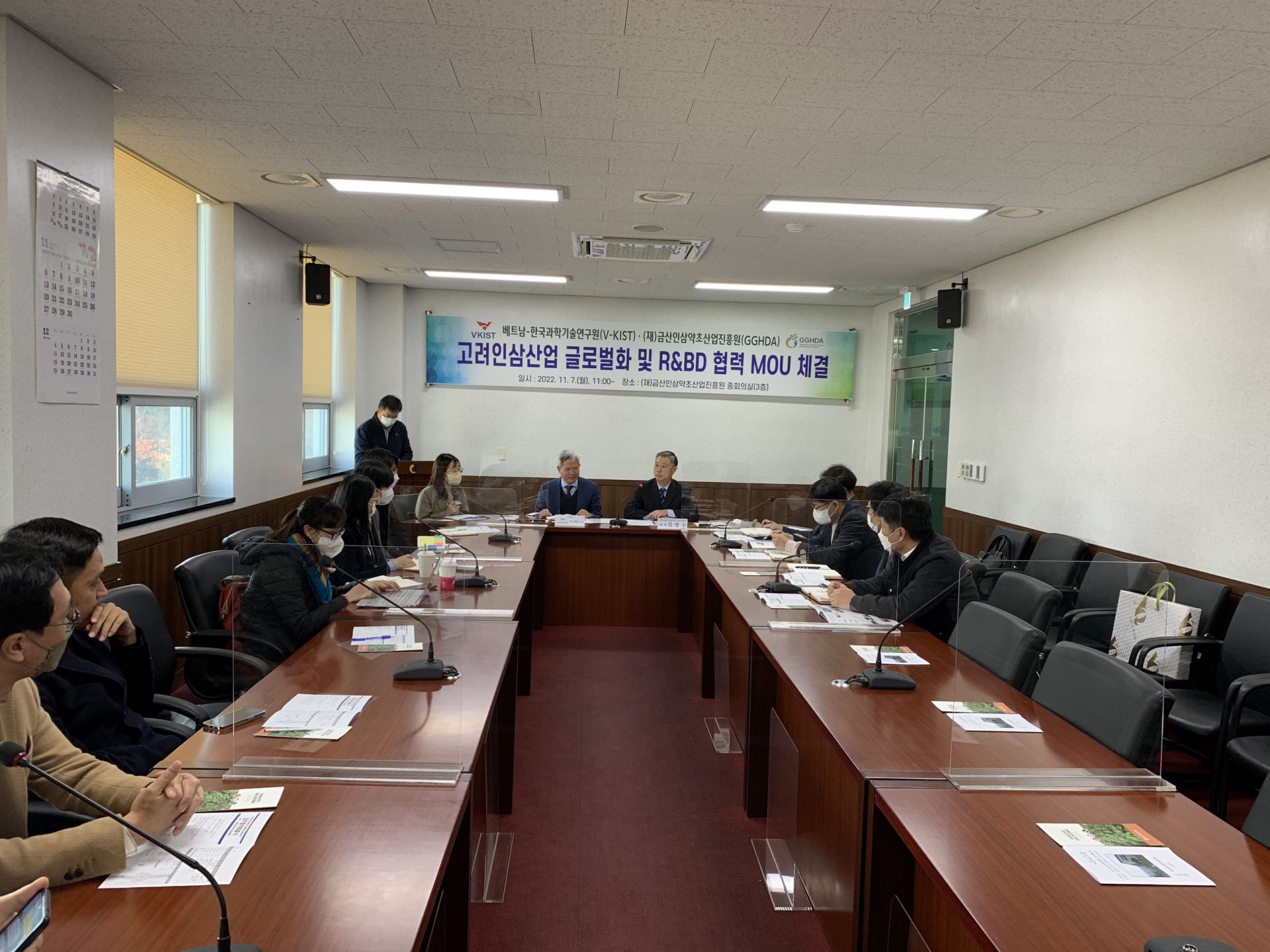 Overview of the MoU Signing Ceremony
At the ceremony, Mr. Vu Duc Loi – Vice President of VKIST thanked GGHDA and ALUKO Group for warmly welcoming the VKIST delegation and for choosing VKIST as a strategic partner.
"VKIST is a Vietnamese public science and technology organization established with the support of two governments with the aim of becoming a leading research institute in the field of applied research and development of advanced technologies pertaining to the industries and sustainable economic growth. Since its inception, VKIST has always focused on expanding and strengthening research cooperation with institutes, universities and enterprises in a number of key research fields, in line with the current development orientation of both sides.
The signing of this Memorandum of Understanding shows the desire and commitment to cooperate in research and development, share research facilities/equipment in the development of ginseng and herbal products in the upcoming time; Supporting the training of human resources and implementing training and exchange programs, etc., thereby contributing to improving the research capacity of the parties. VKIST also proposes to bring GGHDA's ginseng and herbal products to the Vietnamese market, and VKIST will support in the process of testing products according to regulations in the Vietnamese market," said Mr. Vu Duc Loi – Vice President of VKIST.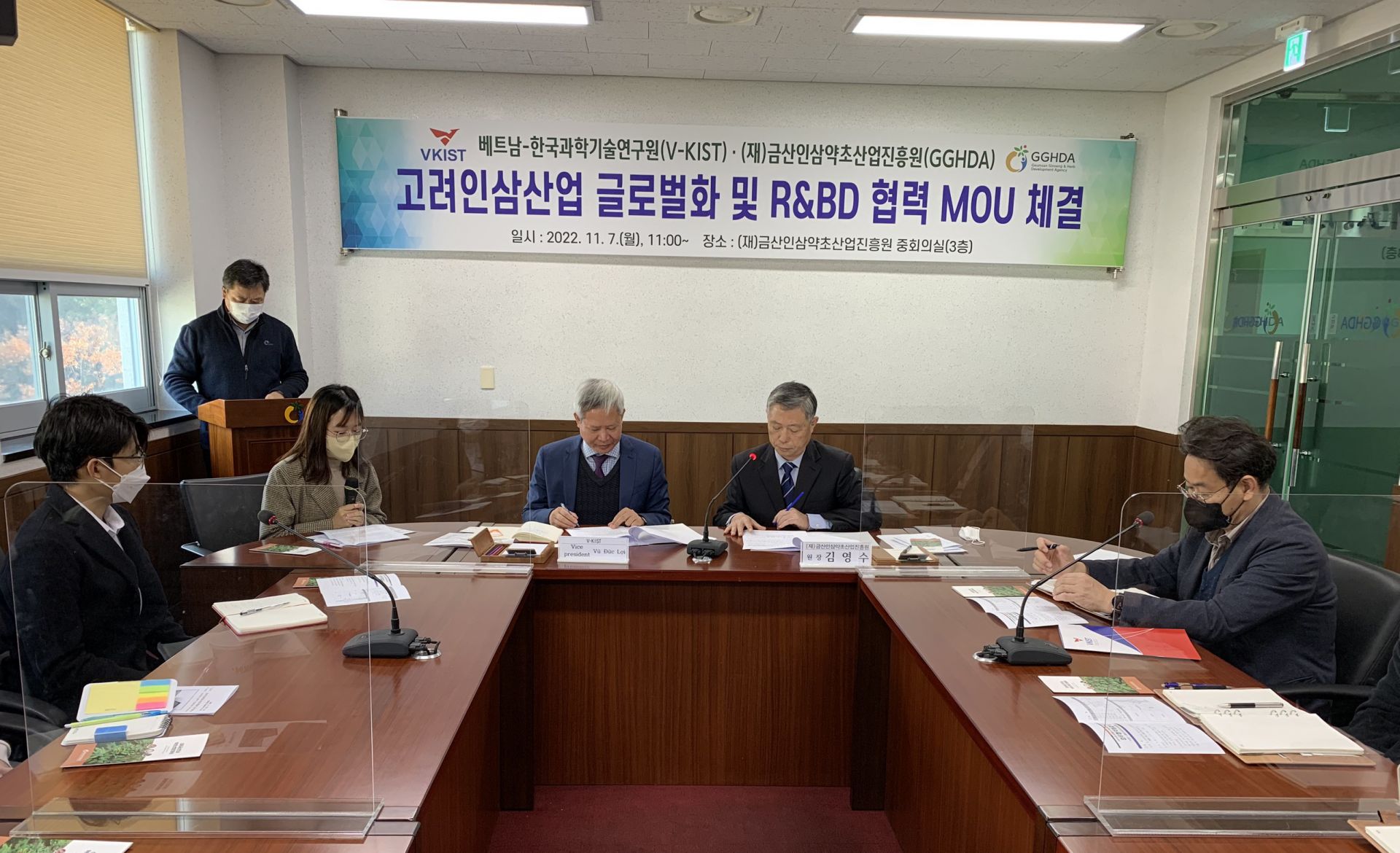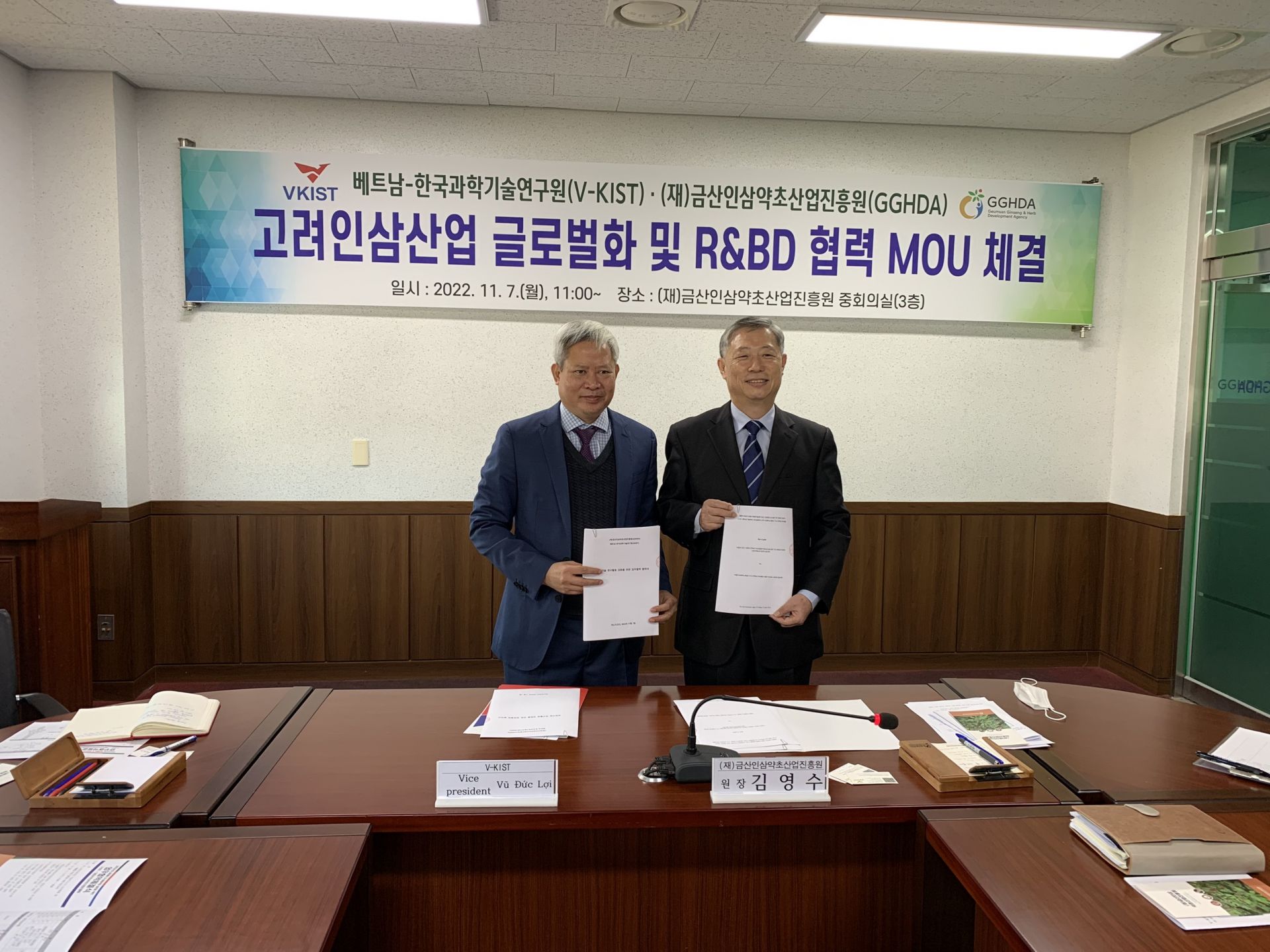 VKIST and GGHDA signed a Memorandum of Understanding to promote research and development activities
The signing ceremony took place successfully and contributed to leveraging the cooperation between VKIST and GGHDA. At the same time, it opened up new opportunities for cooperation and development for both sides, contributing to the next stage of sustainable and prosperous development of both organizations.
Some pictures at the MoU Signing Ceremony: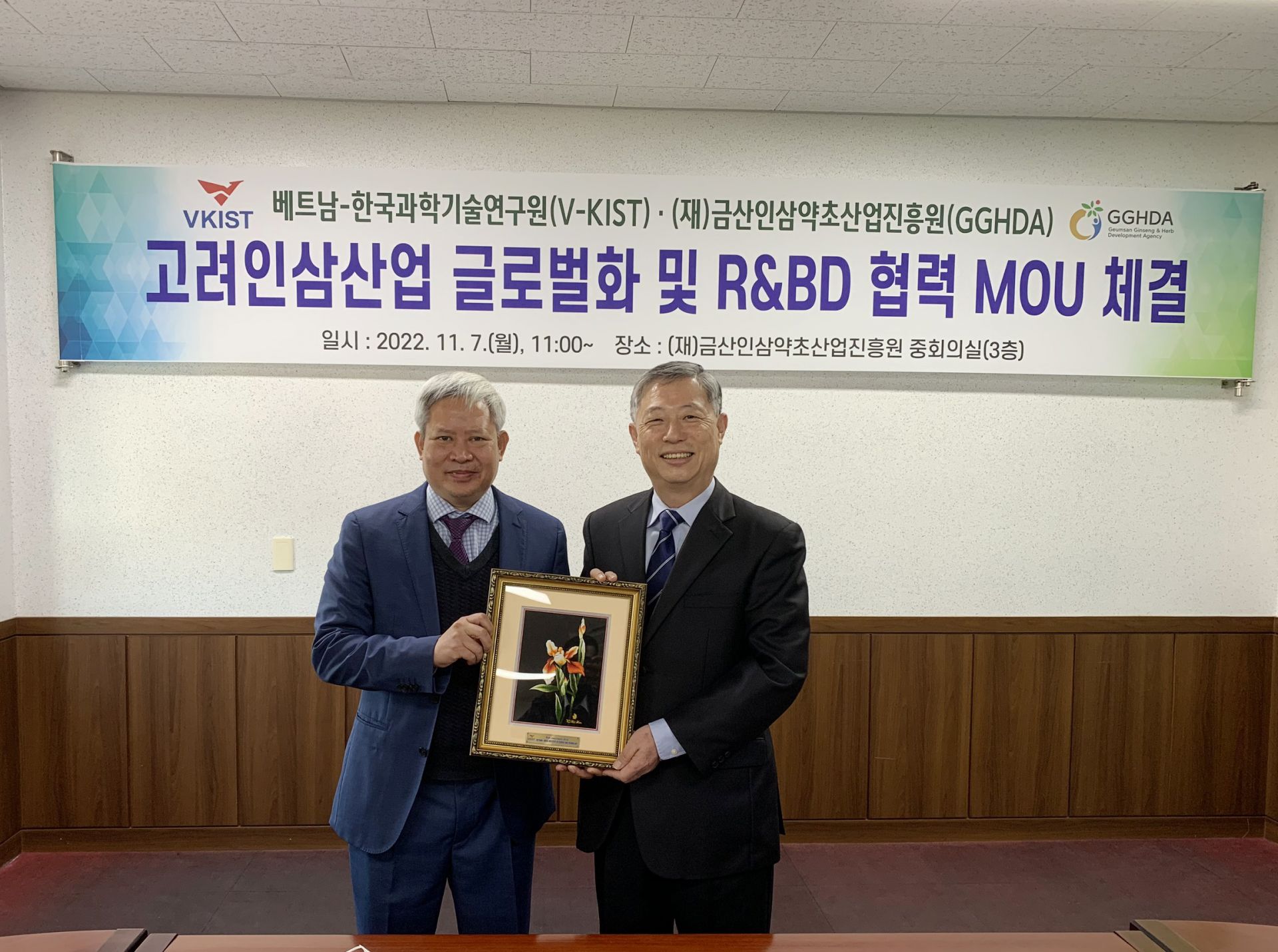 VKIST gave souvenirs to GGHDA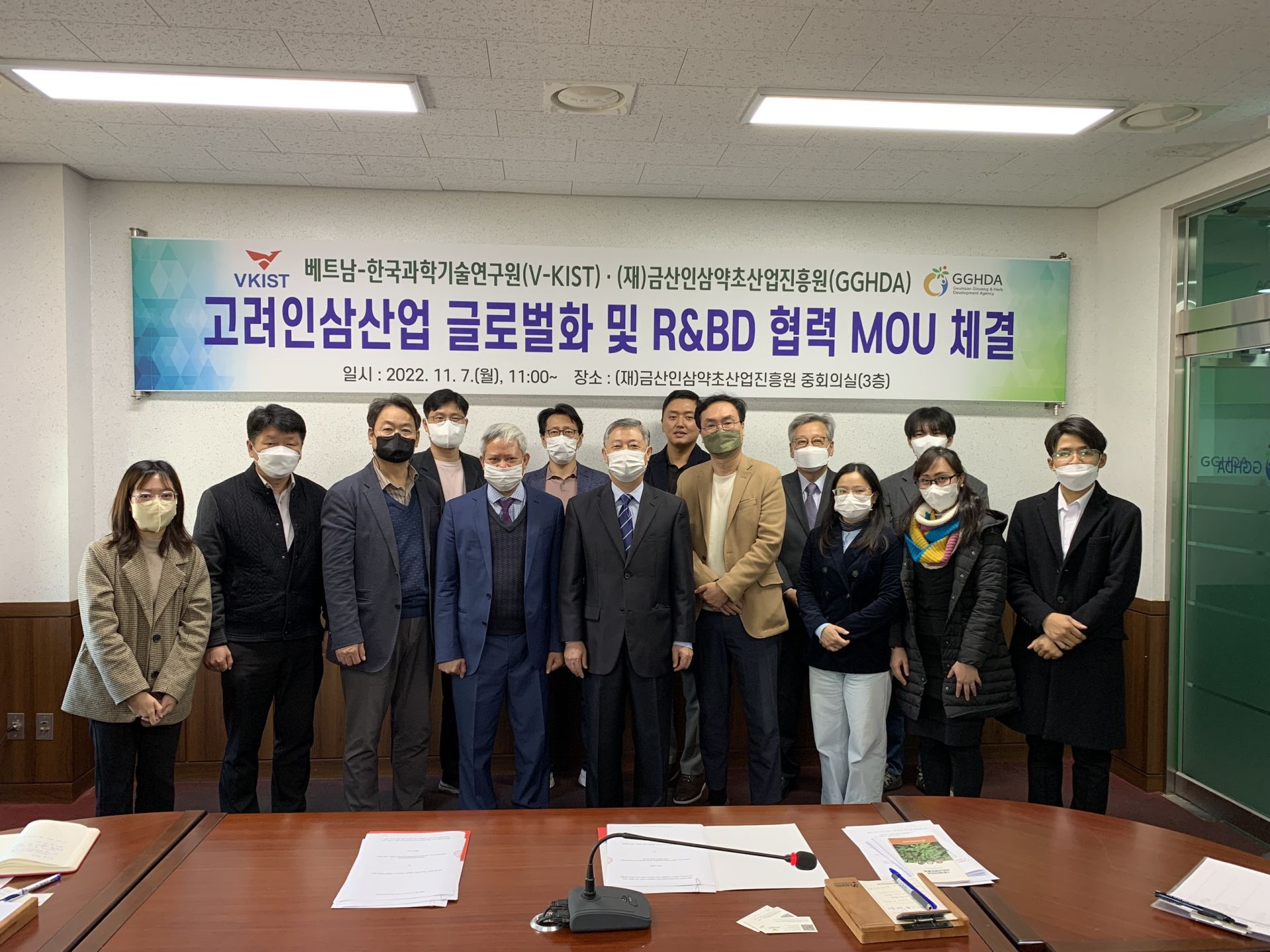 VKIST took a souvenir photo with GGHDA
Geumsan Ginseng & Herb Development Agency (GGHDA) was established in 2008 and has been operating for 14 years now with the aim of sustainable growth and development of the Geumsan herbal and ginseng industry. At the same time, it aims to build a cooperative governance system with relevant agencies in the Geumsan herbal industry.
"Geumsan Province has a 1,500-year history as the center of Korean ginseng production, and the traditional ginseng growing system is recognized as a Globally Important Agricultural System by FAO because of its reputation as a locality product and special farming methods. However, in recent years, the consumption of ginseng has decreased and the price of ginseng has dropped sharply, causing great difficulties for both ginseng growers and ginseng companies. In 14 years of operation, we always try to overcome difficulties and improve the value of ginseng with the motto "Korean Ginseng - a gift from heaven". Therefore, we are determined to open new steps for ginseng and medicinal plants. We will continue to do all we can to develop and offer more new products with improved efficiency, guarantee of ginseng growing process and food safety, promote the ability to manage of small businesses and carry out marketing to promote the sale of ginseng products.
With the desire to bring ginseng everywhere, expand the scale of cooperation in research and development of natural herbs of Vietnam and Korea for life and health care. We realize that, as a base for the development of traditional and folk medicinal herbs and remedies, following a modern approach to improve their effectiveness, quality, and convenience in using them, research developing functional foods and health care products from Vietnamese herbs, VKIST is a potential partner of GGHDA. I believe that our products will have a foothold in the market, strongly developing health care products from Vietnamese herbs", shared Mr. Yeongsu Kim - Director of GGHDA.