At the meeting, Mr. Bui The Duy expressed his pleasure to welcome the President of KIST to VKIST. He also emphasized his appreciation for the support of both Governments, especially KOICA and KIST, during the process of establishing and developing VKIST. Thanks to the support and effort of both sides, VKIST has completed its modern buildings with high-tech facilities and kicked off research activities.
Mr. Yoon Seok Jin expressed his pleasure at receiving the warm welcome from VKIST Leaders. The two sides were pleased to share the results achieved in phase 1 of the project "Cooperation to establish the Vietnam - Korea Institute of Science and Technology in Vietnam" in the period from 2018 to present. In the context that phase 1 is about to end, considering that VKIST has already formed a sound basis for its 'hardware' (building, facilities, etc.) and 'software' (operational apparatus, human resource, etc.), both sides expressed their desire to further strengthen the partnership through specific activities.
Accordingly, the two leaders of VKIST and KIST agreed to carry out a number of activities to commermorate the 30th anniversary of diplomatic relations between Vietnam and Korea and celebrate the upgrade of both countries' bilateral relationship as follows:
- Establishing a Vietnam - Korea Innovation Center to strengthen the connection between two Institutes as well as exchange information and human resource between VKIST and KIST; Facilitating KIST to connect and cooperate with Vietnamese businesses;
- Organizing academic exchanges and discussion on future development orientations on a regular basis; Organizing business exchange forums/seminars in order to expand networks and support connecting Vietnamese and Korean businesses;
- Facilitating exchanges between VKIST researchers and KIST experts about research ideas in the coming time;
- Organizing a workshop for the completion of VKIST project, in which discuss the future vision of VKIST - an organization that is expected to lead the development of science and technology in Vietnam in the future;
- Organizing a handover ceremony of the small RO water purification equipment using solar energy in Ben Tre province (Within the framework of the joint project namely "Support for effective installation and use of desalination water treatment system" between VKIST and KIST since 2021).
The President of KIST affirmed that KIST will actively support in drafting detailed cooperation plans in the short-term as well as long-term and will discuss with VKIST to jointly complete and implement these contents.
At the end of the meeting, Mr. Bui The Duy thanked KIST for the cooperation and support for VKIST's proposals. At the same time, he expressed his wish that the two sides could implement the agreed work at the earliest time. Mr. Duy believed that this working session will be an opportunity to open up new cooperation directions in the future and continue to promote the role of VKIST as a symbol of good cooperation between the two countries in the fields of science, technology and innovation.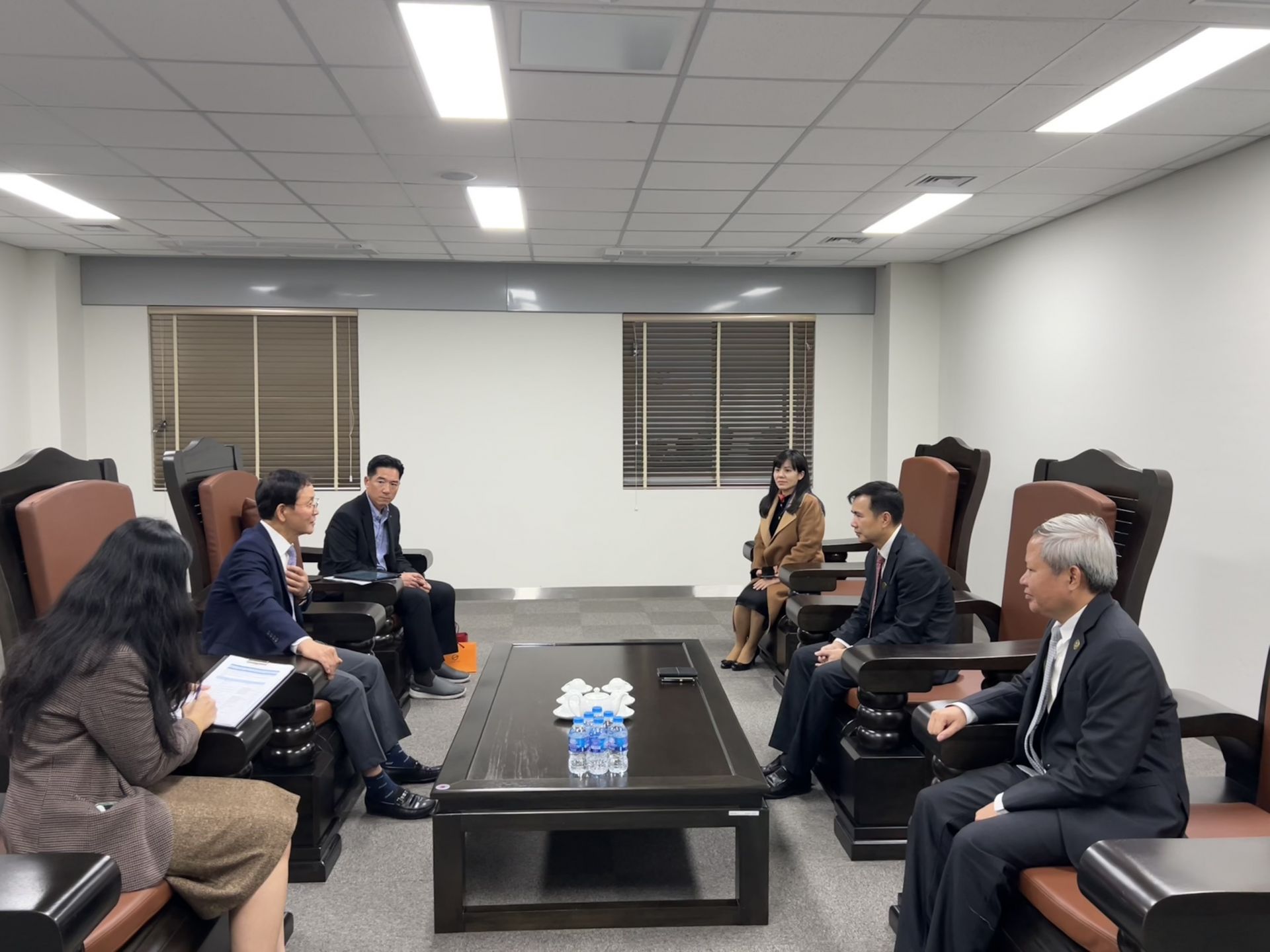 Overview of the meeting between the President of VKIST and the President of KIST